300 Days of Bikram Yoga
What?
Wait…
What?
300 Days of Bikram Yoga?
Yes, yes, yes. 300 Days of Bikram Yoga. It is not a typo.
Why?
Wait, What? Say that again… Followed by a scrunched up face is the consistent reaction I am get, when I tell people about the 300 Day Bikram challenge. In fact it's rather a very puzzled face. A face that tells me I have just rattled their mental programing in terms of what is normal in their minds eye.
Some people have responded with: "I don't really understand, why anyone would put their body through that." – And rightly so, why would anybody put their body through, 300 days of sweaty, focused, 40 degrees, 90 minutes, 26 yoga postures day in day out? Your curious, I get it. Hang on, I'll get to my reasons in a moment.
What has just freaked you out the most? The commitment of 300 days or the 40 degree Celsius/104 degrees Fahrenheit? Or both?
My commitment to this challenge is 300 days of 90 minutes. Which is approx. 27,000 minutes, or 450 hours.
My why's: I have come to the realization, after many years of trying different things, that my body is designed for Bikram yoga. Notice I said Bikram yoga and not Ashatanga or Power yoga.
How do I know this with 100% certainty? – If we look at our actions and notice the feedback we can take that feedback as answers to the questions we seek. Not all questions, just the ones relating to certain actions.
You see deep down in our own consciousness we all know exactly what we need to do. We pose our personal questions, and wait for the answers. As the answers come we fight the answers with our minds.
Because we think that, surely it can't be that easy. Of course, I need to work harder to get the answer. I must feel it, I must struggle, I must reach a breaking point before I acknowledge that 'hey maybe it's as simple as what my awareness was telling me right at the start'. Maybe…
Depends how aware you are. Now, don't get your panties in a bunch. I am not saying you're not aware. All I am saying is notice what you do with your awareness. You can be aware and ignore your awareness because your mind is telling you other things. Or you can draw from your awareness and course correct.
Apart from this body being designed for Bikram, the other very obvious reason's is consistency and focus.
I am fortunate that my husband and I have a relationship where we talk to each other about everything. We often discuss methods and experiment with 'hacking' the body and mind to produce peak performance. We also incorporate 80/20 principals in all areas of our life.
As a marketing strategist and copywriter he is a firm believer of  'on ramps' for almost all areas that need his focus. One day, as we delved into some of my mental programming we discovered I have my own 'on ramps'. Especially when I head out to go to Bikram.
Hint: This ties in with the big keystone habit.
So, why is this important? We travel around the world experiencing different cities at a time, and often that means routines are some what disrupted & as you can imagine the norm isn't normal.
Just a few months ago whilst in Oahu Hawaii, I had either a very broken or displaced metatarsal toe. For whatever reason I decided I would skip having x-rays taken. I thought it would pass. However, the pain got worse. And by this stage we are now headed to NYC. It's my favorite city in the world and I wasn't going to be waiting at Dr's offices and getting scans. It's NYC baby! No time to spare here.
And so again I decided no x-rays. I wanted to see how far I could cope with the pain. That little incident messed my exercise routines up in a really big way. I originally taped it up with Rocktape. I am a big fan of Rocktape. It almost heals everything.  I then had to use a Short Cam Fracture Boot for a few months. That's how bad it got. Maybe I should have gotten the X-rays.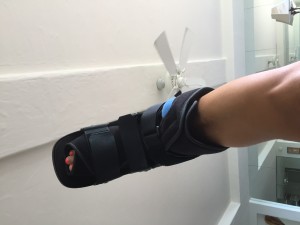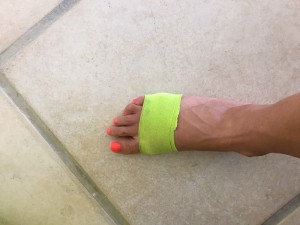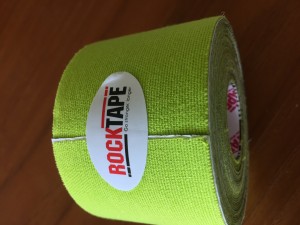 Fast forward 2 months, we have now settled in the South of France for a few months. My foot is healing ever so slowly, and flaring up time and time again, yikes. A difficult time for me. And no Bikram studio nearby. I have to wait till we get to Paris.
We arrive in Paris and the very first thing I do is head over to the closest Bikram studio and sign up for a month. My foot actually starts healing at rapid rates. I was stunned. I was so happy.
The moral of the story is, I fell off the wagon for a few months and I noticed the impact it had in all other areas of my life as well. Bikram yoga for me is a keystone habit.
It is one of my big rocks. After I read The Power of Habits and listened to the audio I finally realized how important keystone habits are in my life and how to integrate them into daily bite size natural forming action steps for better performance in all areas of your life.
You might want to read more on The Power Of Habit for deeper insights.
And there's another reason. We finally decided,we will be doing IVF early next year. Yay! My goal is to prepare my body to be functioning at my highest level possible, for a supportive and loving space for our babies to grow.
Follow the journey see what unfolds. It will definitely make for some interesting reading.
Rules for the 300 days of Bikram include: Simple. I need to get 300 classes done in 300 days. That can include double classes for the day. Or even triples to catch up. Some days may be difficult to get a class in due to travelling or life, however I will catch up.
I will be uploading video whenever possible. If not possible, (due to filming restrictions at studio) I will be taking a photo and I will write a post.
Thanks for reading.
Thanks for joining the journey.
Peace out!
Hugs from Paris,
Sophy