In this article I discuss the discovery of 2 genes that helped me breakthrough my food writing blocks and make me humanly unique…
It's a Friday evening in Surry Hills, we are in one of Sydney's well-established food communities.  We sit down for dinner with friends, and within moments I start commenting.  I have a confession to make.
As the waiter delivers the first course to the neighboring table I begin to tell my friends what ingredients have been used in the dish. They have a dumbfound look on their face. They look at the neighboring dish then look at me. As I continue to tell them about the region the ingredients were sourced from they look at me with amazement and wonder.
My friends are on the edge of their seats wanting to explore the dish now. Before the menus are given to us, our friends quickly ask the waiter about the dish I just described.
The waiter delves into the details and intricate levels of the dish. They cannot wait any longer they order the dish as a pre entrée. Descriptions can be pretty powerful one might think according to our friends actions.
I still have a confession to make.
I can tell you what herbs, sauces, and the other ingredients have been infused in a dish. I can specifically pin point what region the peppercorns and anchovies came from, where the micro greens were sourced from and possibly even who supplied them.
And I can do all of this blindfolded and with my hands tied behind my back.
Why don't you try it?  How did that go for you? Easy? Hard? Confused?
My confession. I am a Super taster. It's easy for me because I'm genetically wired to do so.  It really is ridiculously easy. For me.
And I can prove it. It's written in my genes.

 Super tasters experience the sensation of taste with heightened intensity.
I, of course did not comprehend that at the age of 10, Google wasn't around for me to poke around at. Yet, my taste buds knew exactly what they were doing. At the age of 10 I still didn't have the information I needed.  And now, not only do I have the information, I also have the scientific proof. Thank you Google and DNA tests.
As a child I was curious to understand the differences I noticed between what I tasted and what other kids my age tasted. You see, my tongue looked a little different, I always commented on food, scents and tastes. They didn't. I found that strange. I always wondered if what I tasted was the same as what they tasted.
The doctors told me I had a world map tongue. Doctors confidently told my parents that this issue I had with my tongue would pass, I'd grow out of it. It didn't pass and they were wrong.  And it wasn't an issue! It was a blessing, waiting to bloom like a rose bud blossoming during mid spring.
At such a young age I thought I was going a bit cuckoo, being able to taste flavors so deep and rich, engulfing my whole being with a mouthful of food. In fact at that age just so I could deal with the situation because mentally I couldn't understand it, I use to eat what some people would call bland food. For example – for lunch at school I would have a slice of cheese with no butter on white bread.
Boring one might think, for my taste buds the flavor of that cheese was screaming out creaminess. Then at some point the flavors were so powerful I skipped lunch most days at school opting to play handball with the boys instead.
The issue didn't pass, I didn't grow out of it. I wanted answers. And so now at the age of 39 I am shown scientific DNA evidence that I wasn't crazy!
Fact: It is know that 25% of people in today's 7 billion plus world population are Super tasters.
Tasting food the way I did baffled me for almost 29 years.  Until now! Finally, discovering the presence of the gene TAS2R38 found in my DNA I had answers.  Very clear answers.
The one point in my life where I was able to function in a state of normality without confusion. Solid concrete evidence all sitting dormant right in my DNA.
The discovery of this very valuable information was ground breaking for me. It was the confirmation I was looking for. You see for many years I wanted to write food reviews and recipes. I denied myself the gift that I was given because I didn't actually understand why I could taste the flavors of food and intricate dishes.
And more importantly I didn't want to be just another blogger or food writer. I needed to be different from everyone out there.
Not knowing about my genetic imprint armed me to delve deeper into a very specific part of my biological make up. You see I also have another gene, which has to do with food aromas. That gene is OR7D4.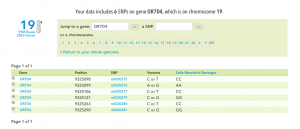 I am also genetically wired with an increased sensitive to androstenone and androstasdienon. Meaning I have a high tolerance for unpleasant smells.  And a naturally higher tolerance for aromatics and aromas. This is a bonus for any food writer.
As humans we detect certain flavor profiles that indicate danger for example the smell of decaying foods or extreme bitter flavors, which can in many cases be poisonous to the human body.
I now have 100% confidence in myself that every word written about my food journey, reviews comes with a high degree of excellence via my very unique genetic make up.
Now lets put all this data together.
What does this all mean to you as one of my wonderful readers?
I am genetically wired to weed out the bad foods and smells. For you that means you will never be poisoned or lead astray. I will only ever give you the highest recommendation on restaurants reviews, recipes and ingredients.
I am genetically wired to taste food at elevated levels.  For you that means you reap the benefits of the best foods, the best restaurants that offer the ultimate food pairing, without having to cook or eat these foods and spend your money. You can have a taste test here on my site then you can decide to go or not.
With my heighted scent and taste my food suggestions and food creations will come to you raw. Meaning as natural as possible, just like Mother Nature intended.
My taste buds are naturally  & genetically refined. I haven't tricked or trained my taste buds.  You will be getting 100% authentic reviews that have not been created by the mind. In other words my reviews won't be word shopped.
You can trust that my reviews and recipes are 100% targeted towards refined flavors and not influence by paid advertisements.
Tested recipes created by me. Easy to follow. No need to be a Master chef in training.
Read articles from someone who can genetically understand food elements and pairing as opposed to someone who has to mentally manufacture and recreate these elements?
Benefiting you from spending your money and time on "trying" a food adventure be it a new recipe or dining location by having the inside scoop.
Authentic reviews from someone with super powers.
Thankfully with the discovery of Chromosome 7 and 19 I am now ready to share my food journey with you. Embracing my super powers and empowering my readers with the best information I can offer.
Let's roll!
What recipes or foods do you like or prefer?
Is there any food or restaurant your curious about?
Live, love, taste!
Till next time.
Sophy