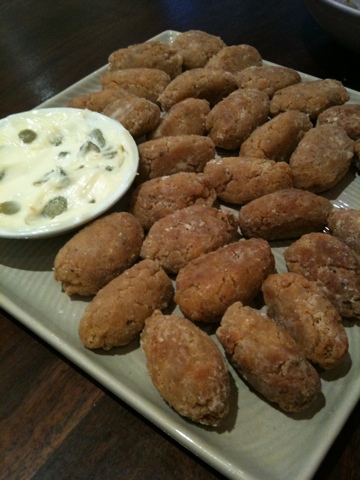 These salmon balls were created for my husband. Perfect little friend to accompany a pint of beer.
They are oven baked and not oily at all.
Ingredients:
Salmon tail fillets
Hydrated chick peas
Fine Grated onion
Vegetable oil
Pesto
Paprika
Pepper
Salt
Oregano
Egg
Rice flour
Organic breadcrumbs
Sea salt
Blend up – salmon – chick peas – oil – pepper – salt – paprika and oregano in a blender. Blend till all ingredients have blended together.
Put mixture in bowl and add breadcrumbs and egg. May not need egg depending how moist and bonded the mixture is. Mix all together to create a fluffy type of mixture. Start to make salmon balls – appox the size of a double teaspoon.
Roll in rice flour. Let them sit for 5 minutes.
Meanwhile you have your oven at 180degrees all pre heated. Place a sheet of baking paper on baking tray and they put salmon balls on tray – brush with oil just before they go in the oven.
Bake for 15-20 min depending in how crunch you want them.
One bakes place them on paper towels to drain oil. Prepare dipping sauce.
Mayo and sweet gherkins – mix them together and presto – simple dipping sauce. Before serving, sprinkle sea salt over salmon balls.
Enjoy –
Can be eaten cold or hot. You can also prepare mixture a day in advance for dinner party snacks etc.
Have fun…