Original Recipe 
Sea Scallops With Vegetable Mash and Omega3 Oil's
I love Sea Scallops. They are plump and so sweet.
I have been incorporating a vegetable mash into our dinners of late.The first reason is I want to get sweet potatoes into the mash to serve as our carb. And the second reason is because I can get Omega3 Oils hidden in our dinner without it tasting like I just added oil on top of our dishes.
This dish is very very, easy and takes less than 15 minutes to cook and serve. Any busy mom, athlete or busy human on this planet could make this dish without too much fuss.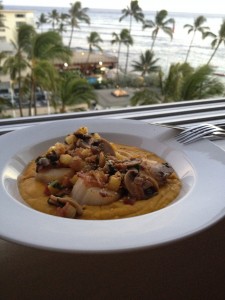 Here it is:
What you will need [quantity per person]:
Vegetable Mash
1 – Small Red Sweet Potato
1 – Cup of Broccoli
¼ – Sweet Onion
2 – Carrots
1 – pot of Boiling Salted Water
2 – Tablespoons of Salted Grassfed Butter [Kerrygold]
30 – mls MCT Oil [UpgradedSelf]
10 – mls Extra Virgin Olive Oil
10 – mls Udo's Oil
1 – Capful of Braggs Apple Cider Vinegar
½ – Juice of Lemon
1 – Dash of Sea Salt
Mushrooms – Pineapple – Basil Topping
3 – Button Mushrooms – sliced
1 – Rash of Grass fed Bacon
2 – Tablespoons of Water
3 – Chunky pieces of Maui Gold Pineapple [Fresh] not canned
4 – Large leaves of Basil [chopped thinly]
½ – Teaspoon of Sesame Oil
¼ – Teaspoon Toasted Sesame Seeds
Sea Scallops
1- teaspoon of salted Kerrygold Butter
6 – Plump Sea Scallops
Method
Vegetable Mash
Boil your water make sure you add the salt right at the beginning. Take your peeled sweet potato, 1 cup of broccoli, 1/4 sweet onion 2 carrots and simmer until sweet potato is soft. Then place in a blender, adding 2 tablespoons salted grassfed butter, 30 mls MCT oil, 10 mls olive oil, 10 mls udos oil, 1 cap of apple cider, juice of half a lemon and a dash of salt. Blend until it is very smooth.
Bacon/Mushroom/Basil Topping
In one saucepan add your diced bacon, add 2 tablespoons of water to cover the bacon bits and simmer on medium heat, allow to cook out until you see bacon browning then add mushrooms.
Wait until the mushrooms are soft then add pineapple and finally right at the end, add the chopped basil. Add a splash of sesame oil off the heat.
 Sea Scallops
Sea scallops – will be the last item you prepare. Heat skillet pan and add salted butter and cook till the tops and bottom of the scallops take on a brownish coat. I salt them every so lightly as they start cooking. You can add pepper at this stage if you desire. The Scallops will only need a few minutes on either side. You can see the scallops change color as you cook them. Once you see the halfway mark of the scallop change from transparent to a fuller white color – once cooked take them off the heat and rest them for 10 seconds, now they are ready for serving.
Take a few big spoonful of the mash and lay it on the bottom of your plate. Place scallops on top of mash, then top with bacon, mushroom, pineapple and basil on top. To finish top with less ¼ teaspoon of toasted sesame seeds.
And there you have it. Let me know if you have any questions J
Bon appetite – max cook time from start to finish 15 min